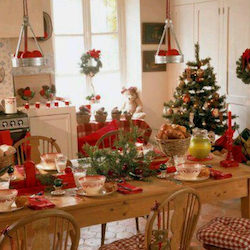 Here at Flexi Kitchens Perth we understand that Xmas time is the perfect opportunity to make use of your fabulous kitchens in Perth. Now that the kids are on holidays and we all know how quickly they become bored, so here is an easy , fun recipe to make together in your kitchen in the lead up to Xmas, serving as both entertainment for the kids and some much needed treats for your hordes of visitors.
Easy to make Christmas tree cookies, are always a hit on the dinner table with all the other wonderful Xmas treats.
They can also be wrapped in clear cellophane and tied with silver, green and red curling ribbon to create a lovely inexpensive gift for those unexpected drop in visitors.
Kitchens Perth Xmas Cookie Recipe
Cookie Ingredients
⅓ cup of softened butter
⅓ cup of shortening
¾ cup of sugar
1 teaspoon of baking powder
1egg
1 tablespoon of milk
1 teaspoon of vanilla essence
2 cups of plain flour
Pinch of salt
Icing Ingredients
2 cups of sifted powdered sugar
4 teaspoons of meringue powder
¼ teaspoon of cream of tartar
¼ cup of warm water
1 – 2 tablespoons warm water
Decorative sprinkles – green and red
Directions
In a large mixing bowl, beat the butter and shortening with an electric mixer for 30 seconds.
Add the sugar, baking powder, and salt beating until combined.
Beat in egg, milk, and vanilla essence until fully combined.
Beat in half the flour with the mixer.
Stir in the remaining flour by hand.
Divide dough in half.
Cover and chill dough for about 1 hour or until easy to handle.
Preheat oven to 180 degrees C.
Roll the dough one half at a time on a lightly floured surface until approximately ½ – 1 cm thickness.
Cut out dough with Xmas tree shaped cookie cutters.
Place about 3 cms apart on ungreased baking sheets.
Bake for 7 to 9 minutes or until the edges are firm and bottoms are very lightly browned.
Transfer to a wire racks and let cool.
Frost with icing and decorate with sprinkles.
Icing Directions
Stir together powdered sugar, meringue powder, and cream of tartar.
Add the ¼ cup of warm water.
Beat with an electric mixer on low speed until combined.
Beat on high speed for 7 to 10 minutes until very stiff.
If necessary, add 1 to 2 tablespoons of additional warm water to make desired consistency.
Decorate with sprinkles.
These Xmas cookies are delicious and fun to make in your very practical kitchen at home in Perth.
Our team here at Flexi Kitchens Perth wish all of our customers past, current and future, a very happy Christmas season and a safe new year.
Call us today on (08) 9301 4200 to find out how we can design and create  your perfectly practical kitchen.
December 19, 2017