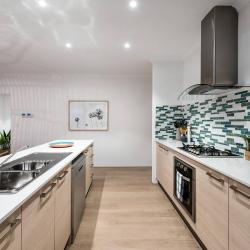 When it comes to Perth kitchen renovations the most important things to consider are the kitchen design and the quality of the end result.
Do you want your kitchen design to look like a renovation, or do you want your kitchen it to flow seamlessly with the rest of your home?
Do you want a beautiful premium quality kitchen that has been custom designed and built with everything that you want and need in a modern, functional kitchen?
Those With Impeccable Taste Will Choose Flexi Perth Kitchen Renovations
There is no doubt about it, if you are looking at having a brand new custom designed kitchen installed in your home and you want your kitchen design to be crafted to the highest standard, you will need to chat to the team at Flexi Kitchen Renovations Perth.
Flexi are well known for creating premium quality kitchens in new homes as well as luxury kitchen renovations in established homes.
Flexi make it so easy for you to achieve exactly what you want in a kitchen design for your home.
All you need to do is compile a list of everything that you could possibly imagine that you could want and need in your perfect kitchen.
If you cannot be sure of what you want, take a visit to some quality display homes and note what they have in the kitchens, that you would love to have in your kitchen design.
Flick through as many magazines as you can and remove any pages with photos of any kitchen design that you like in particular.
Wander through home appliance stores to see what kitchen appliances you would love for your new kitchen.
Take photos, write down the brands that impress you, and collect the brochures that indicate suitable applications and measurements.
When you have an idea of what you want in your kitchen, all you need to do is contact the team at Flexi Kitchens in Perth.
Flexi For Excellence In Craftsmanship And Customer Service
Quality craftsmanship for the discerning home owner
If you want the perfect result for your new kitchen renovation, it is integral that you choose the right team for the project.
When you choose the team at Flexi, you can trust that your new kitchen renovation will include;
Well crafted kitchen design
Timeless quality
Smart design and plans with an understanding of what the customer needs and wants
Function, quality and beauty
Reliable installation date
Here at Flexi our extensive range of kitchen cabinetry designs and colours, combined with our vast range of handles and accessories means that your kitchen design will be unique to you.
No two Flexi kitchens are ever created identical.
Thanks to our cutting edge technology we deliver outstanding functional kitchens every time.
Spend some time in our showroom and speak to the team there or call us today on (08) 9301 4200.
July 3, 2017