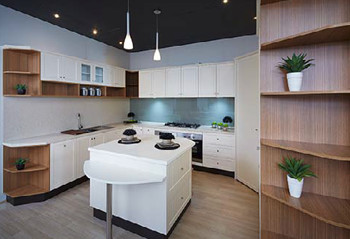 When you are building your new home, you can spend a lot of time looking at different kitchens in Perth, unless of course, your builder gives you only a few kitchen options. Many builders or developers do this, as they usually prefer you to choose from a selection of their supplier's Perth kitchens.
If you are happy with these limited kitchen design choices in Perth, then that is fine, but you don't have to stick with your builder's kitchen design suppliers, you can select your own kitchen design in Perth, a kitchen which is more suitable for your ideal kitchen needs.
All you need to do is to call us at Flexi Kitchens in Perth and we will come to your current home and discuss your new kitchen requirements. We can look at your house plans and design a beautiful kitchen that will suit your space, your lifestyle and your budget.
Once you are happy with the kitchen design, you simply tell your Perth builder that you have arranged for your own kitchen to be installed. We will then install your kitchen at the right time in the build and your Perth builder will not lose any time in his schedule, because we will install the kitchen in the same time frame used by his kitchen suppliers.
What's So Good About Our Kitchens In Perth?
One of the best things about our Perth kitchens is that they are not kitchen flat packs, because every kitchen  is made to order, be it a new home build or renovations. So your kitchen is going to be unique and no-one else will have a kitchen that looks like your kitchen.
At Flexi Kitchens in Perth, we design your kitchen so that it gives you everything you need in a great kitchen and you don't have to compromise, as you do with flat pack kitchens. We talk about your bench tops and all of your kitchen appliances, so that everything fits beautifully together in the kitchen and nothing clashes.
When you have a kitchen that is made to order in Perth, you know that you will have a high quality kitchen that is solid and will last you for many years into the future. After all, if you are going to all of the trouble of actually building your new home in Perth, you want everything to be perfect.
No-one wants a new home in Perth with a kitchen that they are not completely happy with, as it was the best they could pick from the options given to them by their builder. You want your new home to have the perfect family kitchen, which is why you need to check out our Perth kitchens and give us a call, so we can arrange to meet with you and discuss your new fabulous kitchen.
Here at Flexi Kitchens we are dedicated to providing the best kitchen designs in both new build homes and kitchen renovations. Whether you are building a house or doing renovations , Flexi will give you real value for high end quality work.
For more information on our Perth kitchens and renovations, call Flexi Kitchens on 08 9301 4200 or complete our online enquiry form.
March 24, 2016