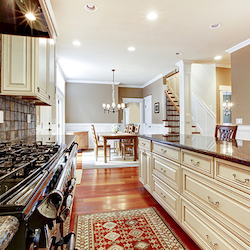 There was a time when we would put off renovating our kitchens either because we couldn't afford the professionals and therefore had to rely on on hubby dearest to do the job. Well that could be a sore talking point, especially when the the only available time was on the weekends. Of course the weekends was when the footy, tennis and cricket were on TV. We all know that it is a no brainer as to when will the kitchen project will start. Then of course for those of us whose hubbies were not fixed to the TV screen, can of beer in hand screeching obscenities at the television, we would then be smart to be seen and not heard if hubby dearest had the urge to start the kitchen project. There he is scratching his er head, as he ponders the job. Yes there he goes with his tape measure and pencil, scribbling his notes on scrap paper.
Next step is his favourite part, ripping out the old cupboards ( referring to this procedure as "gutting it") and hopefully the rubbish is off to the tip. Now heaven forbid that your darling does not have a bowls game coming up or fishing trip that will take him away from the kitchen make over project.
Often the theory behind kitchen DYI is to save money. This can be an illusion, as often the kitchen DYI creates some very expensive kitchen design mistakes to the less than handy, handyman. Choosing to engage reputable tradespeople is the smart way to go with kitchen design and makeovers in Perth.
Flexi Kitchen Design In Perth
No longer do you have to shudder at the thought of a kitchen modification. The solution to your successful kitchen work is to engage Flexi, the kitchen cabinets experts.
Flexi will come to your home and accurately measure the space that will be your new kitchen. They will be able to share their expert knowledge on space maximising solutions and smart kitchen design ideas.
The team at flexi have been creating perfect kitchens for years and their customers keep coming back to them when they need a kitchen project done properly. Flexi are the kitchen, bathroom and laundry experts, they also are second to none with their home office design and installations.
Oh yes and not least of all , are their outstanding wardrobe storage solutions. For the perfect home makeovers, do yourself a favour and contact Flexi for a free quote. You and hubby dearest will be so glad you did.
Perth kitchen renovations – feel the Flexi difference
Are you completing a Perth kitchen project north of the river?
Call us today on (08) 9301 4200 or visit our Joondalup showroom and feel the quality of t our kitchen cabinets and quality workmanship for yourself. Speak to one of our showroom staff and find out how we can get your kitchen designed, built and installed with minimal disruption.
Are you South of the river and looking for kitchen renovations?
Spend some time in our Myaree showroom and speak to the showroom team there or call us today on (08) 9301 4200. Open our kitchen cabinets, run your hands along the work top surfaces, try out our innovative in-cabinets solutions for yourself.
We make your kitchen renovation easy.
February 16, 2017