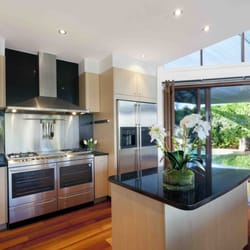 Most people procrastinate and put off the project of kitchen renovations in their home mainly because it just seems all too hard.
There are many instances where DIY kitchen makeovers have resulted in kitchen disasters!, and in most cases the not so handy homeowner has taken on the job, without fully understanding the necessary procedures and by laws that are all part of the process.
Those people who want a successful kitchen renovation which will improve their day to day lifestyle and increase the value of their property, are best advised to put the project into the hands of the experts, therefore the electrical work and the plumbing will be performed by licensed trades people who are fully insured and experienced in the work needed to be undertaken during the kitchen renovation process.
This point alone should be enough to deter any home handy person from attempting to save a few dollars by doing the job themselves.
The result could be a major problem for the handy home owner, when they discover that their home insurance may be deemed void due to unqualified persons performing electrical and plumbing work on the property.
Do not take the risk, instead call on a trusted well known kitchen designer and manufacturer who will come to your home, inspect the area which is to be renovated, discuss the various design options you are considering and provide you with a quote, right there on the spot.
Flexi Kitchens in Perth have been providing this excellent service to their many satisfied customers since the turn of the century. Their customers return for other home improvements year after year because they know they can expect:
Quality
Professionalism
Beautifully functional solutions
Whether you are looking for kitchen renovations, custom made wardrobes, a functional home theatre or a home office that supports your business, contact the team at Flexi today on (08) 9301 4200 and find out for yourself why a Flexi customer is a customer for life.
September 12, 2018