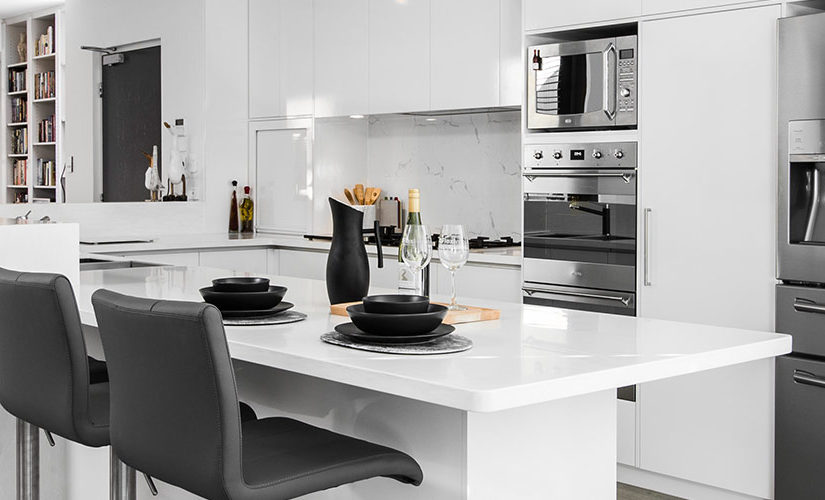 The Hub of The Home
The family kitchen in  the Perth home is one of the most important rooms in your house, as a place for the family to share meals and to start the day. Every family is different and each will require their kitchen space to fulfil different needs.
For example, some families might want a casual eating/ breakfast bar in their kitchen, whilst others might prefer a casual dining space with table and chairs. At Flexi Kitchens in Perth, we have the expertise and the skills to design and craft a kitchen that is perfect for your family, every day of the week.
5 Benefits Of A Professionally Designed Kitchen
There is no denying that quality custom design kitchen renovations give a whole different vibe to your home when compared to a flat pack kitchen. So here 5 awesome benefits of our kitchen design service in Perth.
Save money: Some people think that a flat pack kitchen is going to be cheaper than a custom design and installed kitchen and on the initial costs, you might be right. However, when problems arise and walls and floors aren't level and your handyman skills can't cope with these problems, you can end up spending more than you anticipated on your kitchen.
Save time: Who wants to spend their weekends, evenings and even their holidays installing a new kitchen project.? Why waste your valuable time trying to do something that the expert team at Flexi Kitchens in Perth can do in no time at all?
No stress: Designing your own kitchen with no help, measuring the spaces accurately and then having to install all the cabinetry yourself can be quite stressful. So save all the angst of a DIY and call in the expert team at Flexi Kitchens in Perth.
Everything you want: With our designer skills, we will do our absolute best to give you everything you want in your kitchen. Trying to fit everything into your kitchen space can be very difficult, but we have a few tricks up our sleeve that will give you your perfect kitchen.
Completed on time: You don't have to spend weeks or months with a half-finished kitchen, because at Flexi Kitchens in Perth we give you an installation date and we stick to it. So once we give you a date, your new kitchen will be installed within a couple of days and your family can start enjoying their new kitchen. Forget putting up with an ongoing DIY project, because we can give you the kitchen of your dreams in double quick time.
So if you are ready to update your old, tired kitchen or install a quality new kitchen in your newly built home, call the professionals at Flexi Kitchens in Perth on 08 9301 4200 or complete our online enquiry form.
July 20, 2016