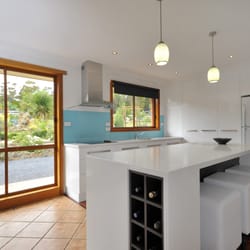 Most of us will agree that your kitchen is one of the most important rooms in your home and so it makes sense to have your kitchen design custom designed and built by Kitchens Perth.
Whether you are looking at building a new home or you want to update your kitchen in an established home, you really need to do your research and see what new kitchen design options are available to you.
A good place to start is to write down the things that you can not do without your new kitchen design and then add the things that you don't need in your new kitchen design but would love to have.
Now that you have your list of kitchen design ideas and , you should go and look at some display homes in Perth and see what the latest kitchen design trends and ideas are for kitchens.
There are some some good home project magazines about kitchens that you can look through as well as fabulous kitchen sites online.
Do yourself a favour and spend a little time researching kitchens, you may find some great kitchen project ideas for your home that you had not thought of.
Kitchens Perth For Those Who Expect Quality
When you are looking at the various options for kitchens in Perth, make sure that the quality of the materials and craftsmanship is of a high standard.
Kitchens in the home get a lot of traffic and therefore the kitchen work benches and kitchen cupboard doors need to be durable.
It is no use having some pretty kitchen cupboard doors if the hinges are cheap and nasty.
So many of us have seen kitchen cupboard doors hanging from dodgy hinges, especially the corner kitchen cupboard doors, not to mention the flimsy kitchen drawers that do not hold the weight of your cutlery.
The smart thing to do is engage the professionals in kitchen design, manufacture and installations in Perth.
Flexi Kitchens Perth, are not only the experts in everything kitchens, but they will actually come to your home, have a look at the space you have available and take it from there.
This free home consultation service is just one of the many reasons that satisfied customers recommend Flexi Kitchens Perth.
Can you imagine how simple that is?
The experts in gorgeous kitchens sitting with you in your home and discussing your list of what you need and want in your ideal kitchen.
The best part is that they have state of the art 3D software that they use to show you optional layouts of your kitchen and every colour combination you can think of.
How easy is that, and with a cuppa as well.
You will be amazed at how simple the whole experience will be from the time you select your new kitchen layout, kitchen cupboard door designs and fabulous bench tops and before you know it, you will be enjoying your new kitchen.
Make it easy for yourself contact the team at Flexi Kitchens Perth (08) 9301 4200 and find out how you can experience your dream kitchen in your home.
June 1, 2017