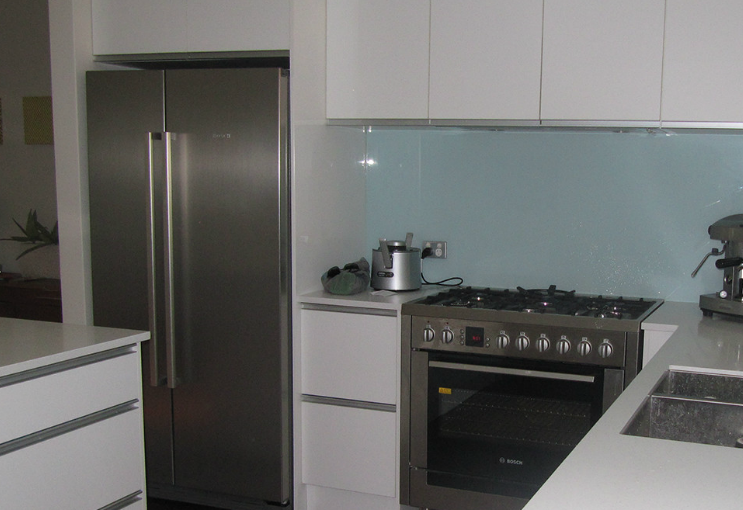 Kitchen Renovations
At Flexi Kitchens in Perth, some of our Perth kitchen renovations have to be seen to be believed. Regardless of their kitchen renovations budget, we have created some really awesome kitchen designs for our clients.
Many people in Perth don't realise that a new kitchen design doesn't have to break the bank, because you can have very functional kitchen renovations that are  well-designed and look absolutely fabulous for just about any kitchen budget.
The best way to start off your Perth kitchen renovations is to have at least $2000 available, because then you can have a really great kitchen. Of course, the larger your budget, the higher the specs and the more choices you have with your bench tops, cabinetry and finishes.
Kitchen Choices
If your kitchen renovations budget is limited, then our Perth kitchen renovators, custom designed package is your best option. This is our basic kitchen, but it is not a flat pack – it is designed specifically for your kitchen design and storage needs.
The best way to approach your new Perth kitchen renovations is to start out with what you absolutely must have in your new kitchen renovations and then add one or two extra items that you have always wanted in your kitchen.
At this level, many of our Perth kitchen renovations include a large custom kitchen pantry, because our clients have always wanted either a large pantry or a walk-in kitchen pantry. Other great kitchen options are a built-in wine fridge and dishwasher or a lovely family-friendly kitchen island.
If you are happy with the basic layout of your kitchen and are not interested in any of the above options, then many of our clients decide to upgrade the kitchen bench tops from laminate to quartz, marble or even polished concrete (which looks awesome in the kitchen and is extremely hard wearing).
If you are still on the fence about a new kitchen then here are the top 3 reasons why Perth kitchen renovations were so popular in 2015.
We don't offer flat pack kitchens: If you want a cheap flat pack kitchen, then there are plenty of these around, but you have to do all the work yourself and you still can't easily customise them. Even our most budget conscious kitchen designs are custom designed and hand crafted, so you get exactly what you want in your kitchen. – installed for you in your Perth home.
We stick to your budget: You tell us your Perth kitchen budget and we will give you a fabulous, custom built kitchen that fits safely within your kitchen budget.
Our Perth kitchens are functional and beautiful: Whatever your kitchen budget in Perth , our kitchens are highly functional and look absolutely awesome. We don't built kitchens that don't look good, we build kitchens that will make you the envy of everyone. A fabulous modern kitchen in a Perth home is a smart investment. Everyone knows it is the kitchen that dictates the sale price of a Perth property, so do it right and  get a Flexi kitchen.
So if Perth kitchen renovations are on your radar this New Year, call Flexi Kitchens on 08 9301 4200 or complete our online enquiry form and we will design a fabulous new kitchen for your family.
December 24, 2015