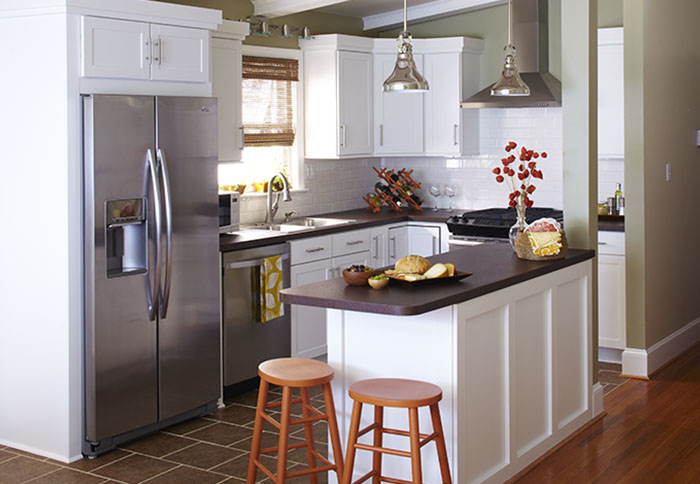 It is a very exciting time when you are planning to build a new home, and sometimes it is easy to overlook some of the things that will make a huge difference to you, when you finally move in.
Your kitchen design, is such an important factor in your lifestyle and daily routine, therefore with so many wonderful house designs to choose from, functional kitchens are now a top priority for home buyers in Perth.
Changing Kitchens In Perth Display Homes
Their is much competition between the various building companies in Perth and most companies are happy to change their standard house plan designs to get the business.
This is welcome news for the purchasers, who can then make the adjustments they need, including having their dream kitchen built from a supplier of their choice.
Choose Your Kitchens Carefully
Do your research and avoid costly mistakes, before choosing your brand new home design. Practical things to do and consider include:
Visit display homes, read magazines and visit kitchen and bathroom display centres
Know what you need from your ideal kitchen design
Write a list of all the items you must have in your kitchen
Write a list of things you would love to have in your kitchen but not necessarily need
Know what size fridge space you need
What type of pantry do you need and how large it needs to be
Will you need dishwasher space?
What type of kitchen bench are you interested in?
Think about splash backs
Hidden power outlets
Wine storage
Hide away bins
Tap-ware
Cabinetry finishes
There is so much that goes into creating the perfect kitchen for your particular needs, that is why it makes sense to simplify matters by chatting with the team from Flexi, who are the experts in kitchen design and manufacture.
They will make choosing your kitchen design, simply a pleasure.
Flexi will design, build and install your perfect kitchen created to your specific needs.

Flexi Kitchens In Perth

Flexi provide their customers the kitchens they deserve, premium quality, manufacture and installation, with every project including:
The finest quality workmanship
A completion and installation deadline with a complete timeline of works
Punctual kitchen delivery and installation
Ongoing communication with staff throughout the entire process
Experienced kitchen designers who understand your kitchen layout ideas and help to create your perfect kitchen
Custom made kitchen cabinetry with wide range of designs, fixtures and fittings
Colour and style choices that complement the rest of the home
Qualified tradespeople who demonstrate care in your home during the whole kitchen project
Soft close kitchen doors and kitchen drawers as standard
Beautiful range of solid surface and quality quartz kitchen bench tops
Clever kitchen cupboard design and drawer inserts, such as Lazy Susans and hide away bins
Flexi have been designing and installing custom made furniture for WA homes since the turn of the century. Find out why a Flexi customer is a customer for life.
Contact the team at Flexi now on (08) 9301 4200.
February 19, 2019