Building Functional Kitchens With Flexi Kitchens Perth
Home » Building Functional Kitchens With Flexi Kitchens Perth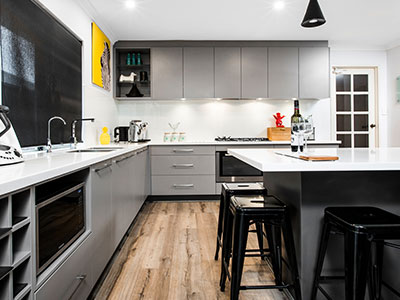 When planning or designing a new kitchen, it is important to consider the functionality of the kitchen space.   The functionality of a kitchen space is just as important as a kitchens beauty as it allows people to easily move around and use the kitchen.  When considering the layout of a kitchen, one needs to consider how the kitchen will be used and how many people will be using the kitchen at one time!
Here are some tips on creating a functional kitchen:
Storage. Kitchen storage is an important part of any kitchen design.

 

No matter how big or small a kitchen is, maximising kitchen storage is always crucial.

 

A well-designed kitchen should utilise every available space in the kitchen.

 

Good kitchen storage can be created with a combination of kitchen cabinets, draws, pantries and islands. Our team at Flexi Kitchens will be able to show you how they can design a kitchen to accommodate your kitchen storage needs.
Pantry. In most kitchens, the pantry is one of the most well-used parts of a kitchen. If space permits, a walk-in pantry in the kitchen is ideal as this will allow plenty of room for kitchen storage for food and other items.

 

Customised shelving can be built into the kitchen pantry to maximise storage space.
Kitchen Island. A kitchen island is a popular choice in most Perth kitchens.

 

Not only does a kitchen island create a great place for informal eating, it also adds space for food prep and extra storage. A kitchen island can hold a dishwasher, sink, microwave, drawers, cupboards, allowing for more space in the kitchen.
Lighting. For a kitchen to function well, it needs to have the proper lighting. The right lighting will create a well-lit kitchen that is easy to work in.

 

When designing a kitchen, consider where food prep will occur as lighting here will be important.
Kitchen Zones. Most Perth homeowners have specific cooking needs when it comes to their kitchen.

 

For example, some families do a lot of baking and some families want a beverage station or a serving station.

 

Larger kitchens usually accommodate work zones for cooking, storage, food prep and cleanup.

 

Most modern kitchens should allow for more than one cook to work at a time, which is important in busy Perth households.
Flexi Kitchens in Perth have been helping Perth people design beautifully functional kitchens for years.  When designing kitchens in Perth, the team at Flexi Kitchens will carefully consider how the homeowner will be using the kitchen so that it will suit their needs. Contact the friendly team at Flexi Kitchens today!
June 11, 2018