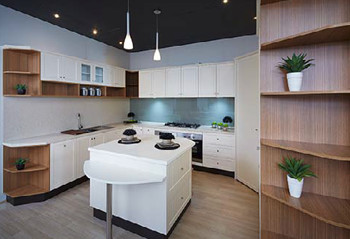 When you decide to build your new house in Perth or opt for kitchen renovations, you want everything to be perfect in your new kitchen. You must consider carefully why you need one of our custom designed Flexi Kitchens in Perth.  
Your kitchen is the hub of your house  and is where everyone comes together to eat, chat and socialise. Your family congregates  in the kitchen in the mornings, before they head of to work or school and in the late afternoons and evenings, when everyone returns home and happily catches up.
When friends come over, the first place everyone heads to is the kitchen, maybe to put the kettle on or to prepare a meal. So you really want your kitchen design in your brand new house in Perth to reflect your lifestyle, to be fully functional and to look absolutely fabulous. The same can be said for our Flexi kitchen renovations, what a difference to your life style with one of our kitchen renovations. We design our kitchens to suit your lifestyle needs.
Custom Designed
Perth Kitchens
How many times have you seen an awesome kitchen on TV and thought to yourself how wonderful it would be – if you could have a kitchen like that? Well, we can give you your dream kitchen and make you the envy of everyone in Perth.
All of our kitchens in Perth are fully customised for your residence . So once you have made an appointment with us, we come out to your home and look at the space you have available for your new kitchen.
If you are not at the lock up stage yet, then we can look at your kitchen plans, so we know the exact specifications of the space you will have for your kitchen. We will discuss your kitchen ideas with you and we will design a kitchen for your new Perth home that is perfect for your budget and for your lifestyle.
You can select the types of kitchen cabinetry you want, whether you want solid timber kitchen cupboards or a more cost efficient material, the colour and the finishes of your kitchen cabinets. Then of course you need to select your kitchen bench tops and we can assist you there as well – after all there is no point in new cabinetry if you don't have a kitchen benchtop as well!
Once you have selected all of your large appliances, sinks and taps, and we know where they will be located in your kitchen, we can go ahead and manufacture your kitchen cabinets in Perth , made to order by our master craftsmen.
At Flexi Kitchens in Perth we make sure that you have the kitchen of your dreams for your new house and we go out of our way to make it happen for you. So if you are building a brand new house in Perth, then a customised, made to order kitchen will ensure that you have the lifestyle and the kitchen you have always wanted.
For more information on our brand new, custom made Perth kitchens, contact  Flexi Kitchens on 08 9301 4200 or contact us by completing our online enquiry form .
February 9, 2016