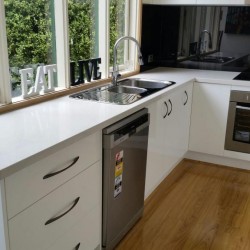 Kitchen designs in Perth are constantly evolving to meet the fast paced lifestyles that people are faced with today. With so many varied lifestyle choices, homeowners in Perth need to invest in an innovative, custom kitchen design that works for their particular lifestyle needs.
A lot of families have two working parents, school age children, the pets and extended family and friends who are frequently in and out of their homes.
These families need the big fridge, the chest freezer, the big microwave, the dishwasher as well as several hand held appliances that make meal preparation easier.
Other smart kitchen design options available for consideration include:
A walk in pantry with plenty of adjustable shelving
Butler's pantry
Easy to reach overhead cabinets
Hide away bin
Appliance hutch with power outlets for kettle and toaster
Good lighting over work areas
Wine storage
Deep pot draws
Benchtops with retractable power outlets
Pull out work spaces
Drawer organisers
Glass splashbacks for easy cleaning
The choices you have today in your kitchen design make allowances for those who prefer to have a kitchen bench that doubles up as a breakfast bar or those who want an island workbench or a country kitchen with plenty of space for a set of table and chairs for casual meals.
Alfresco kitchens are trending at the moment and are proving to be especially useful for those families who are often inundated with school friends and play dates.
Take it outside kids!
Flexi Kitchens For Quality Finishes
Whatever kitchen design suits your lifestyle in Perth, one thing is certain, you want quality craftsmanship with smart, creative kitchen ideas.
Flexi Kitchens in Perth are well known for their standout kitchen design, manufacture and installation process.
Not only do they come to your home to measure your kitchen space, but they listen to your kitchen design ideas, and discuss your needs for the perfect custom designed kitchen.
Flexi in Perth, produce kitchens to the very highest standard, with every detail taken into account to make sure your dream kitchen not only functions perfectly, but it looks absolutely gorgeous as well.
If you are looking for a premium kitchen, then you need to chat to the kitchen experts. Contact the team at Flexi to ask about a free home visit and quote for your new kitchen project in Perth.
See for yourself how the team from Flexi Kitchens in Perth can create a beautifully functional quality kitchen for you by calling them on (08) 9301 4200.
March 15, 2019