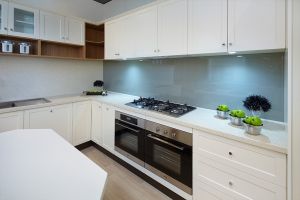 When it comes to choosing between DIY kitchens or a custom built kitchen in Perth, you need to consider several things very carefully.
Consider the extra value to your property with a professionally crafted and installed custom kitchen, the time frame for renovations to be completed and the risk of a less than perfect DIY job needing expensive overhauls.
Whether you have a brand new home which you want to fit out, or you are planning to renovate an older home, be aware that kitchens and bathrooms are not easy DIY projects, and can often lead to very expensive " fix ups" by professional tradespeople.
Unlike bedrooms and living areas that usually just require fresh paint, floor coverings and new light fittings, bathrooms and kitchens involve plumbing and electrical expertise.
Installing DIY flat packs, is not as easy as you may think, unless you are a skilled carpenter.
Very rarely are kitchen walls fully square and it takes skill to trim and adjust flat packs to fit uneven walls perfectly.
Avoid costly mistakes by engaging the experts from the get go!

Flexi Kitchens In Perth For Those Who Want Quality
The team from Flexi Kitchens in Perth have been designing, manufacturing and installing beautiful, high quality kitchens for almost 20 years.
When you are looking at the various options for your new kitchen design, make sure that the quality is of a high standard.
Kitchens get a lot of traffic and therefore the work benches and cupboard doors need to be durable.
It is no use having some pretty cupboard doors if the hinges are cheap and nasty.
So many of us have seen kitchen cupboard doors hanging from dodgy hinges, especially the corner cupboard doors, not to mention the flimsy kitchen drawers that do not hold the weight of your cutlery.
Flexi Kitchens are of an outstanding quality, and for a very good reason.
The first thing they will do is arrange for a free home consultation, during which they will take exact measurements of your available space as well as discuss your kitchen ideas and what style cabinetry you prefer.
This free home consult service is just one of the many reasons that satisfied customers recommend Flexi Kitchens Perth.
You will be amazed at how simple the whole process will be from the time you select your new kitchen layout, kitchen cupboard door designs and fabulous bench tops, until the kitchen installation.
Make it easy for yourself contact the team at Flexi Kitchens Perth (08) 9301 4200 and find out how you can get your dream kitchen in your home.
May 30, 2019