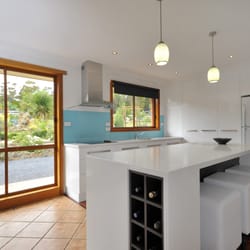 The modern Perth kitchen is the cornerstone of every family home.  It sets the scene for the entire home and says a lot about the people that live there.  A kitchen is a place where the family gathers and talks about their day and prepare and share meals together. Careful consideration is needed when planning a new kitchen in Perth.  The kitchen is a widely used room and so it is important to get it right!  Here are a few must-haves to include in a new kitchen:
Two separate sinks
The kitchen sink is one of the most utilised features within a kitchen! Everyone in the home tends to use the kitchen sink, whether it's for preparing meals or cleaning dishes in the kitchen. Most people find that as they work in the kitchen, dishes can quickly pile up around the kitchen sink, causing clutter and inefficient workflow. The perfect solution is to include a second sink in the kitchen design.  The two kitchen sinks can be used however the family sees fit, however many people allocate one sink as the working area for dishes etc and the other one for simple duties such as filling kettles, rinsing veggies etc.
Kitchen Island
If space permits, a kitchen island is a must-have to include in a new kitchen design. Kitchen islands are well suited to large, open plan kitchens and can add invaluable benefits to a new kitchen.  A kitchen island adds a functional space in which families can gather to cook, eat and share stories about their day.  In addition, a kitchen island can add additional storage, workspace and space for appliances.  Most importantly, a kitchen island provides good workflow efficiency in a new kitchen.
Bin Drawers
A rubbish bin that sits out on the kitchen floor looks untidy and cluttered.  Bin drawers in the kitchen are the perfect solution to keeping the kitchen bins tidy and out of the way.  Bin drawers are great because they can be placed close to kitchen food prep and cleaning zones, therefore creating an efficient workflow in the kitchen.
Filtered water dispenser
A filtered water dispenser is a great addition to a modern Perth kitchen.  Most families find a filtered water dispenser to be invaluable in the kitchen as children can access chilled water whenever they like. Filtered water dispensers in the kitchen can even dispense instantly chilled, sparkling or boiled water!  They are the perfect addition to any new kitchen!
Good appliances
Kitchen appliances are an important part of any new kitchen design.  Most people want reliable kitchen appliances that are smart, energy efficient and look great.  Kitchen appliances need to be considered when designing a new kitchen as they will help in deciding what workstations are needed.  Kitchen appliances can be built into the kitchen to reduce clutter and free up a workspace in the kitchen.
Flexi Kitchens in Perth design beautifully functional custom kitchens.  Their friendly team have the knowledge and experience to provide advice on what they think should be included in a new kitchen.  They provide advice while always listening to what the customer wants as their number one aim is to provide exceptional service. Contact the team at Flexi Kitchens in Perth to find out more.
July 11, 2018