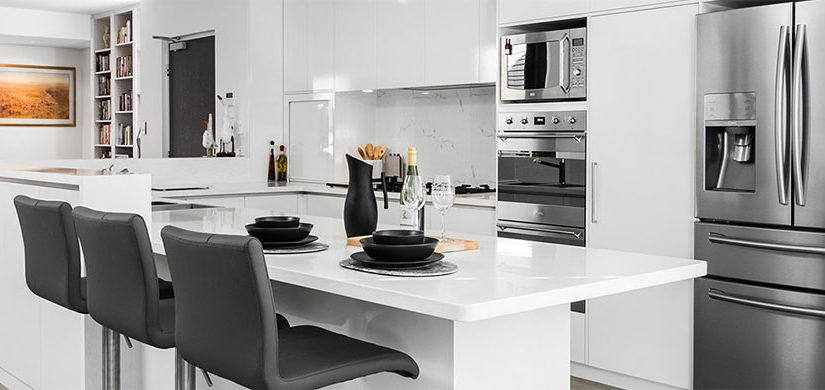 With years of experience in designing and creating beautiful, functional, modern kitchens, the team at Flexi Kitchens in Perth have so much advice to give!  They understand the important role the kitchen plays in any Perth home and are passionate about building kitchens that suit the customer's needs.  The team at Flexi Kitchens know that all customers have different needs when it comes to their new kitchen.  Here are another 5 must-haves to include in a new Perth kitchen.  This list is continued from last weeks blog.
Dishwasher drawers
Dishwasher drawers in a new kitchen are so much better than the old-fashioned stand-up dishwashers.  Not only do they look better, they are easier to use, offer more space and can also be used for the storage of clean dishes in the kitchen. You can add as many drawers as you want to your kitchen, although most kitchens include two.  The two dishwasher drawers can be used independently or together depending on peoples needs. The best place to put the dishwasher drawers in a kitchen is usually near the sink, creating good workflow when tidying the kitchen.
Ample lighting and power points
Good lighting in a kitchen is essential for creating a sleek, modern looking kitchen. Good lighting also makes a kitchen easier and more comfortable to work in.  Lighting in the kitchen can go beyond just the recessed LED and overhead lights.  Some great places to add lighting in a kitchen is:
under kitchen cabinets
under kitchen bar
above kitchen cabinets
inside kitchen cabinets
rope lighting underneath kitchen kickboards
task lighting.
There should always be plenty of power points included in a new kitchen.  When deciding where the power points should go, carefully consider how the kitchen will be used.   Where will appliances sit? What appliances will be used?
Kitchen bench and barstools
At Flexi Kitchens in Perth, we believe that if space permits, all kitchens should include a kitchen bench and barstools.  A kitchen bench is so handy in most households.  Families with young children find it especially useful as they can sit at the kitchen bench and eat, play or do homework while the parents work in the kitchen.
Pot drawer
Deep pot drawers are very useful in any kitchen. It is best to position the drawers close to the oven or cooktop for efficient workflow in the kitchen.  Deep drawers are so handy in any kitchen, even if people don't want to use them for their pots!
Warming drawer
Warming drawers in a new kitchen are great for parties and busy households.  They are usually located close to the oven or cooktop and adds lots of functionality in a kitchen without taking up too much space.
Speak to the friendly team at Flexi Kitchens in Perth to find out more about their beautiful kitchens. Flexi Kitchens understand that all people have different needs when it comes to their kitchen.  They are dedicated to designing and creating functional kitchens to suit different families and households.  Contact Flexi Kitchens in Perth today.
July 16, 2018