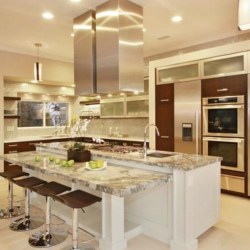 A kitchen renovation is a great way to modernise a Perth home and give it a classy, new feel.  Renovating a kitchen also adds considerable value to a home.  Its no wonder why people all over Perth are deciding to get their kitchen renovated!  The problem can be choosing a company to do the renovation as there are so many businesses out there offering kitchen renovations.  Here are 10 reasons why Flexi Kitchens in Perth are the best choice for a new kitchen in Perth!
Respected, established Perth business
Flexi Kitchens in Perth have been designing, building and installing beautiful, functional kitchens in Perth since 2001.  During this time they have established themselves as a well respected Perth business, renowned for their professionalism, quality products and top-notch service.
2. Huge selection of colours and styles
When people visit one of Flexi Kitchens showrooms which are in Joondalup and Myaree, they are astounded by the selection of colours and styles on offer.  There are styles and colours to suit every taste and home decor.
3. Competitive prices
The team at Flexi Kitchens in Perth are proud to provide quality kitchens at a competitive price. They provide a no-obligation quote to all of their customers so that they know exactly what their costs will be.
4. Excellent customer service
At Flexi Kitchens in Perth, the team believe that every customer deserves the best service and the personal touch! They go out of their way to keep their customers happy.
5. Flexi Kitchens in Perth makes the whole process easy
Flexi Kitchens understand that kitchen renovations can be stressful.  That is why they try to make the whole process as easy as possible for the customer!  One of the team members from Flexi Kitchens will visit the customer in their home and provide a quote and consultation. Their designer will discuss kitchen ideas, measure up space and take the customer through the number of options available.
6. Employ only the best craftsmen in the business
Flexi Kitchens only employ the best craftsmen in the industry!  That is how they maintain their flawless reputation and high-quality products.  Directors Craig Teede and Kelvin Mansfield continue to invest in their staff to ensure they employ the best people in the industry.
7. No lengthy waiting periods
The team at Flexi Kitchens guarantee that they will deliver the finished product on time and on budget every time.  For every kitchen, they will provide the customer with an accurate completion date.
8. Top quality product every time
Flexi Kitchens always deliver top quality products to their valued customers.  Customers are invited to their showrooms to see their beautiful kitchens designs.
9. Latest technology available
Flexi Kitchens have invested in the latest technology in the areas of design, workflow, quality control and production.  Once the customer has decided on their kitchen design, Flexi Kitchens can produce a full 3D representation of the finished product!
10. Professional installation every time
The installation of the kitchen is all included in the price, so there are no nasty surprises along the way!  The team at Flexi Kitchens always guarantee professional installation and quality products every time!
Contact Flexi Kitchens in Perth to find out more!
August 17, 2018